Providing numerous HIE-connected hospitals a more comprehensive patient portal solution, offloading Meaningful Use requirements from individual facilities.
Client Overview
St. Luke's University Health Network is a regional network of hospitals, physicians and other related organizations providing care primarily in Lehigh, Northampton, Monroe, Carbon, Schuylkill, Bucks, Montgomery and Berks counties in Pennsylvania and Warren County in New Jersey. The six-hospital network provides services at more than 150 sites, including primary care/specialist physician sites, outpatient testing and service facilities, plus home health and hospice services.
Challenge
St. Luke's University Health Network sought to integrate existing patient data in a way that would actively lead to patient engagement and meet Meaningful Use Stage 2 standards across all of its facilities and services.
Solution
In partnership with Caradigm, Get Real Health developed this unique solution. Caradigm's health information exchange (HIE) software integrated various data sources throughout the system to create an enterprise-wide HIE for St. Luke's University Health Network incorporated as eVantageHealth. The InstantPHR-powered patient portal website was connected directly to eVantageHealth (rather than tethered to individual EHR systems). To maintain separate databases for patient data and clinical data, Get Real Health's CHBase platform stored a copy of the patient's clinical record from the HIE for the patient to access. The result was an innovative HIE solution that provided services, including patient engagement, to the region. This unified and holistic view of St. Luke's University Health Network's patients' medical information for patients, their healthcare providers, and other authorized third parties - like out-of-network providers and family caregivers - was indispensable. Using the portal, patients could view their health records, download them to their computer, and transmit them to authorized third parties.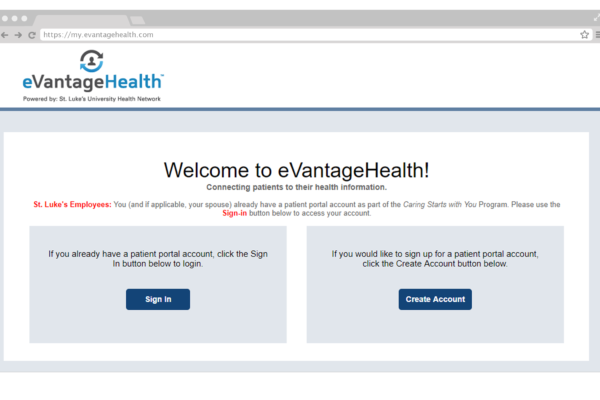 Benefits

Get Real Health's award-winning InstantPHR® patient engagement solution provided St. Luke's University Health Network's facilities with an integrated patient portal website to help improve the patient experience, make patients' medical information more accessible, and help St. Luke's University Health Network's facilities work toward meeting the patient engagement requirements of the Medicare and Medicaid EHR Incentive Programs, also called "Meaningful Use - Stage 2."
Relevance
St. Luke's University Health Network made history with its approach to patient engagement by pioneering a comprehensive patient engagement strategy of in-office up-sell of the electronic health record and follow-up directly with patients to help lead to increased adoption rates. Patients and St. Luke's University Health Network's doctors could also securely message one another and share information through the system, thus enhancing their mutual understanding of test results, discharge instructions, and related medical information. This new system made the patient part of the process and an equal participant in managing his or her own care.